Saturday, October 31st, 2009
We have been so busy this month!  I think I'm going to have to rely on the pictures to help me remember it all… 
First of all, Granny got Gavin some great new monkey slippers- he loves them and just wanders around in circles wearing them…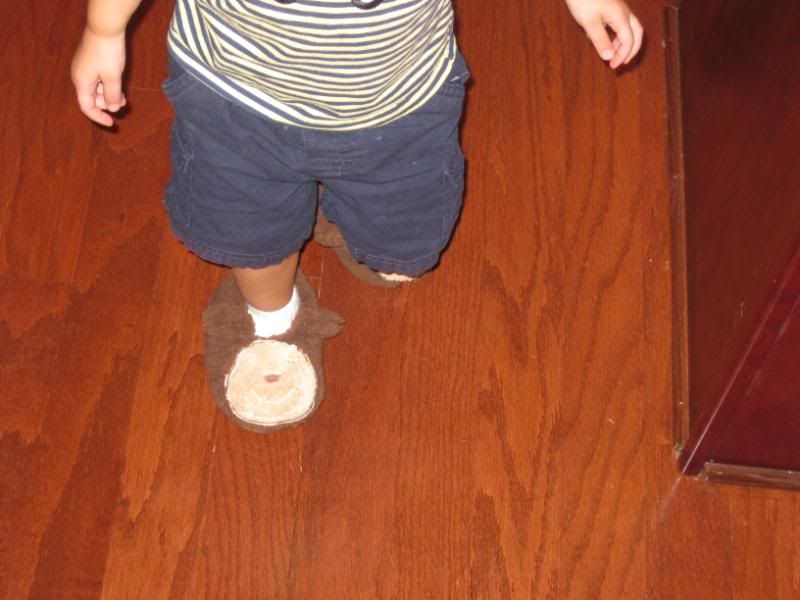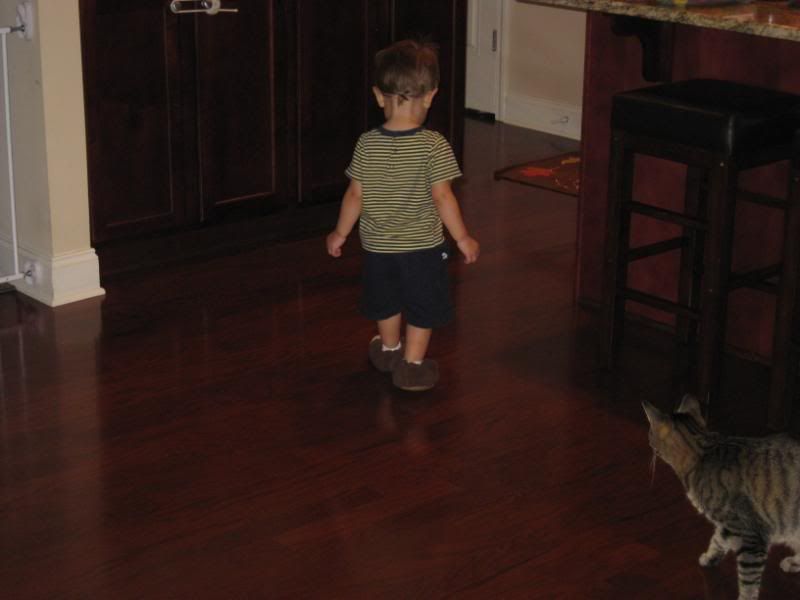 Gavin and Daddy spent some quality time watching tv.  But then mommy got mad at Comcast and turned it off… so now we watch a lot of DVD's and play on the internet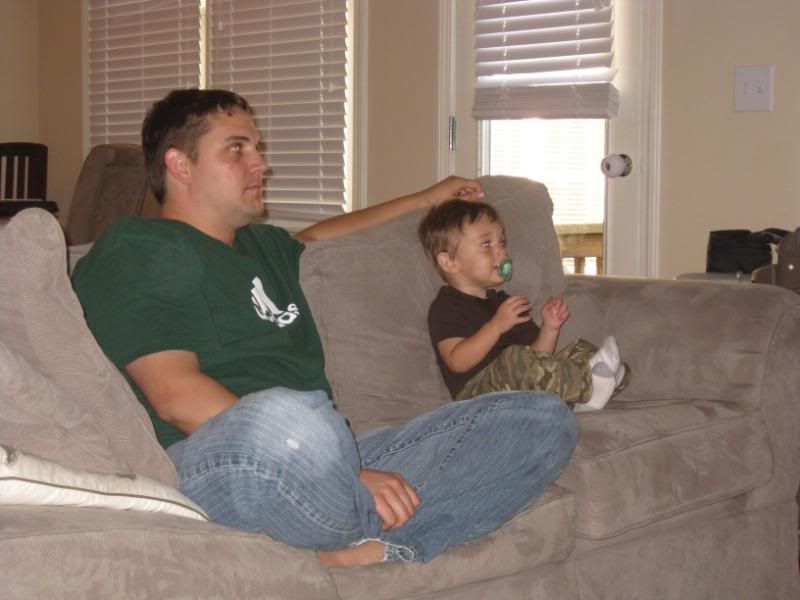 I just thought this was a cute picture: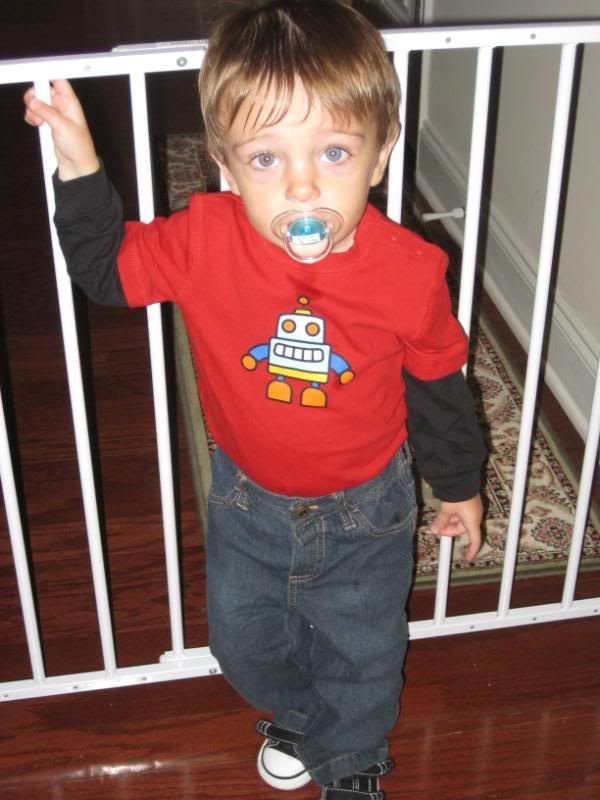 Then we went to the Pumpkin Patch.  Gavin had a great time- we took a hay ride and that was probably his favorite part.  He really liked the tractor!
After that, we picked up some small pumpkins.  Gavin calls them "balls"- ok, whatever you say.
Then we went to pick out a big "ball."  This was a little overwhelming for Gavin.  He wanted to pick them all up and he kept getting distracted by the tractor passing by.  I think he was afraid we were missing our ride!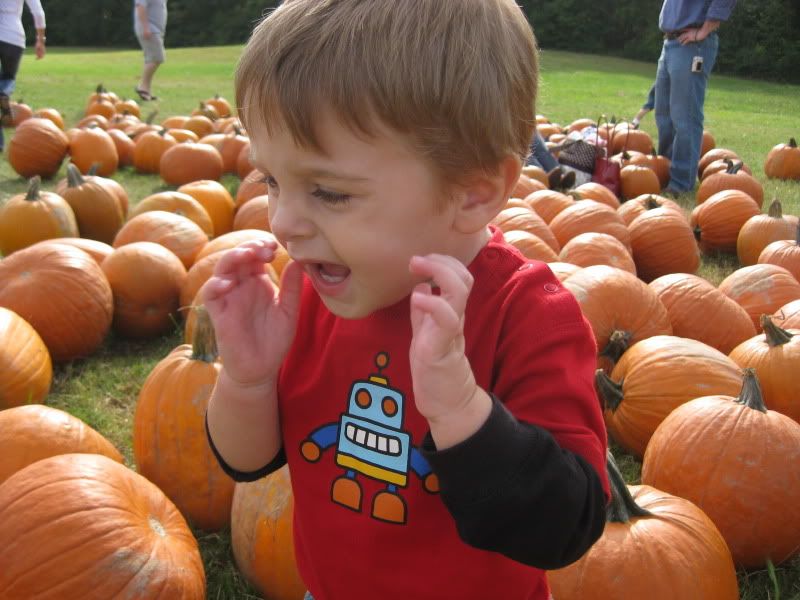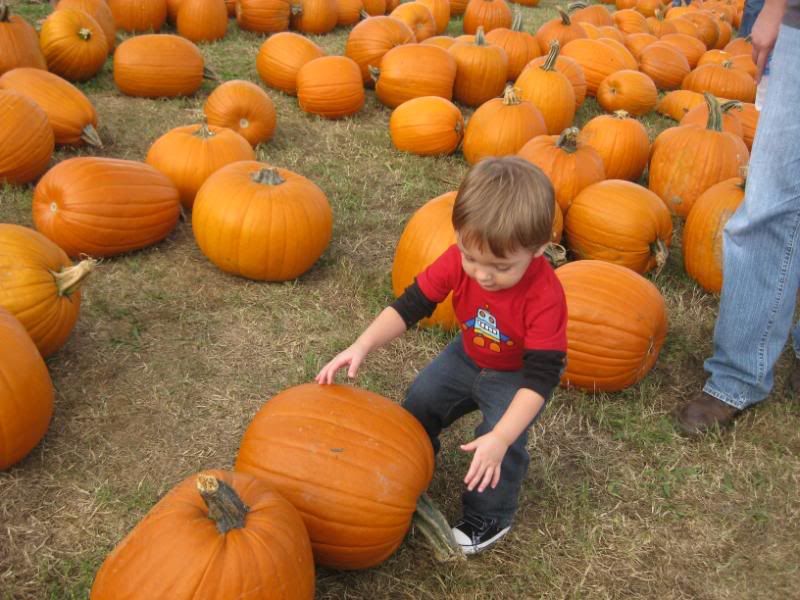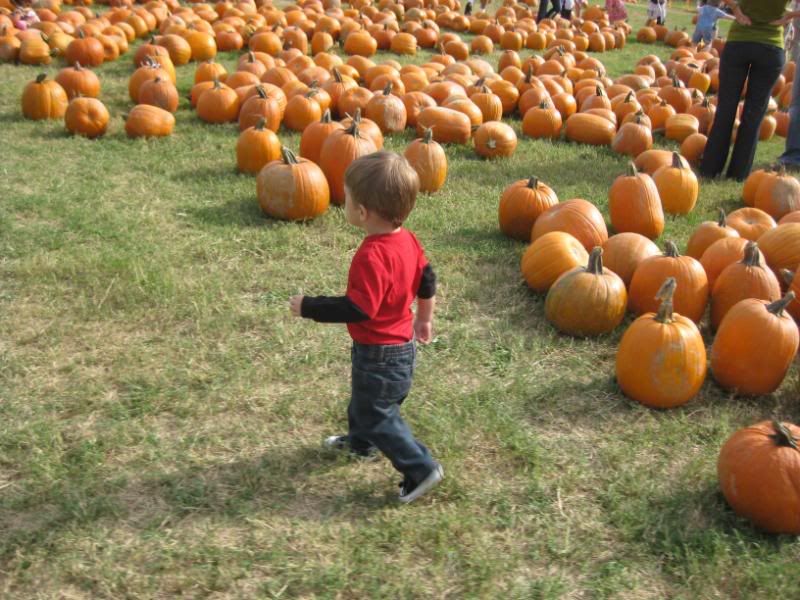 We've been working on using a spoon with Gavin.  He does pretty well at school (or so they say), but home is another story.  Dinner time is always a messy affair.  So to try to encourage him to use the spoon, we give him TWO- one for each hand!
Also this month, Gavin finally got his ear tubes put in.  It's been two weeks now and so far so good!  Actually, we had a huge spurt of new words immediately after having it done.  I don't know if that's coincidence or not, but we are very happy about it!  Here is a pic of Gavin playing basketball in his hospital room right before surgery: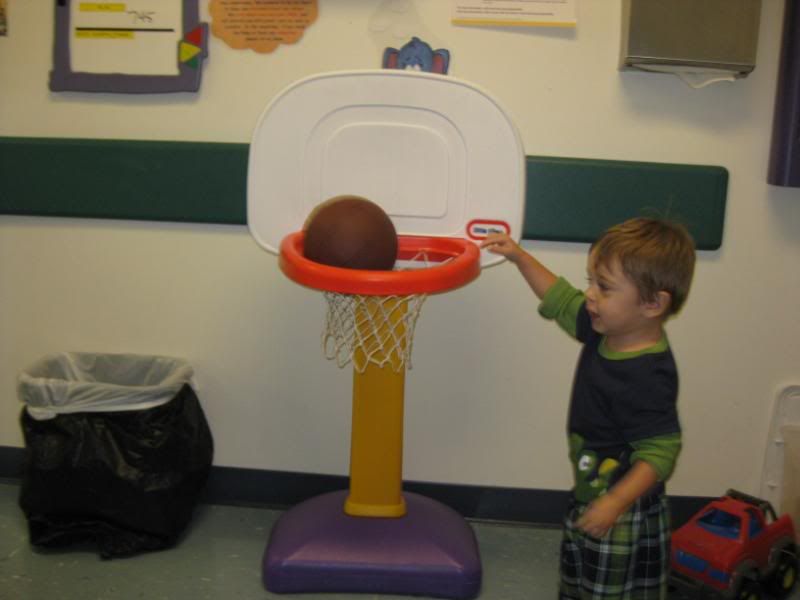 Here's a cute picture of him playing with his choo choo: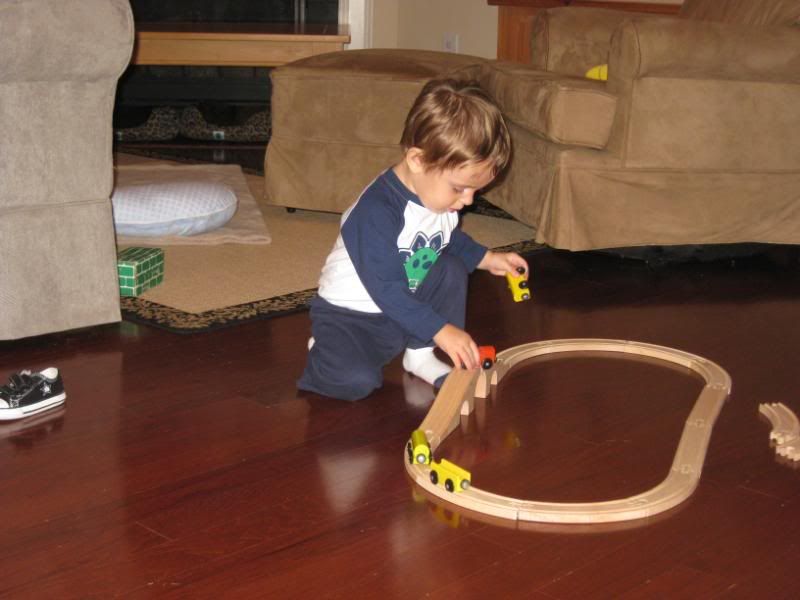 Then it was time for Coralyn's birthday party!  Can you believe she is already 3?  I can't!  The kids had a blast in the bounce house and playing in the playhouse: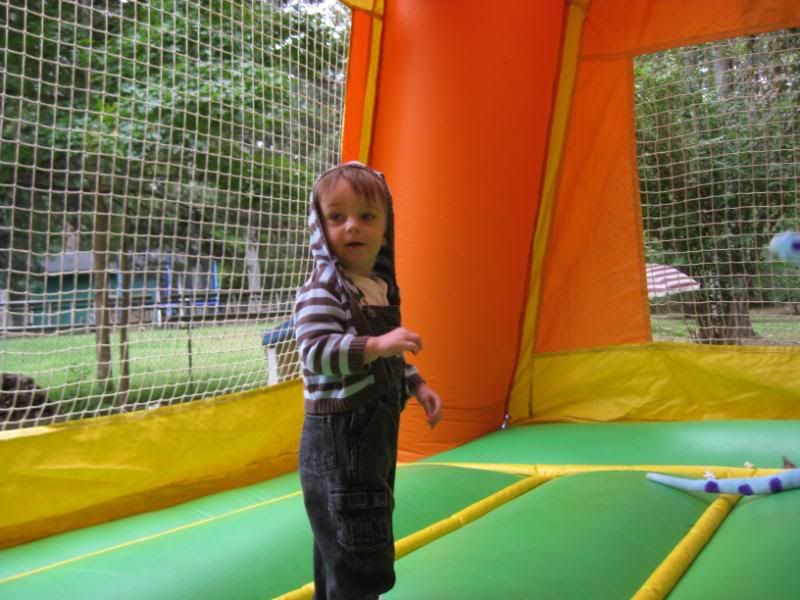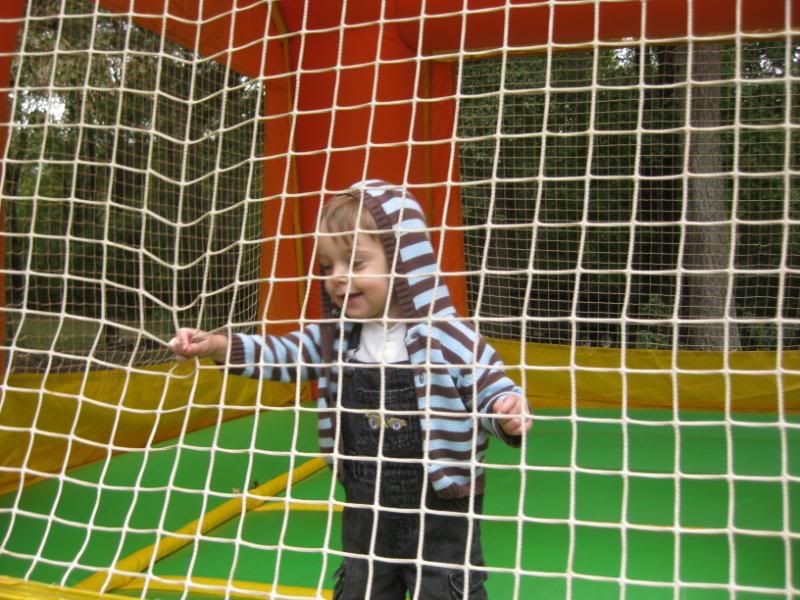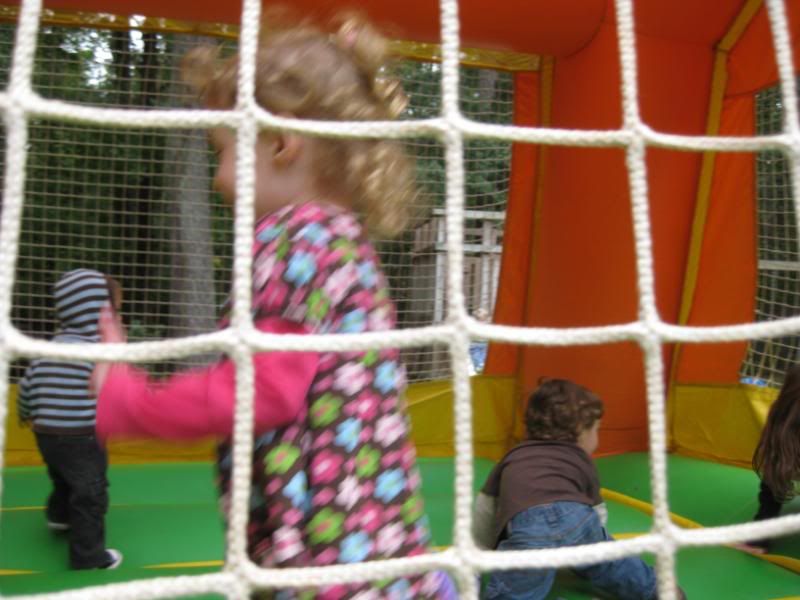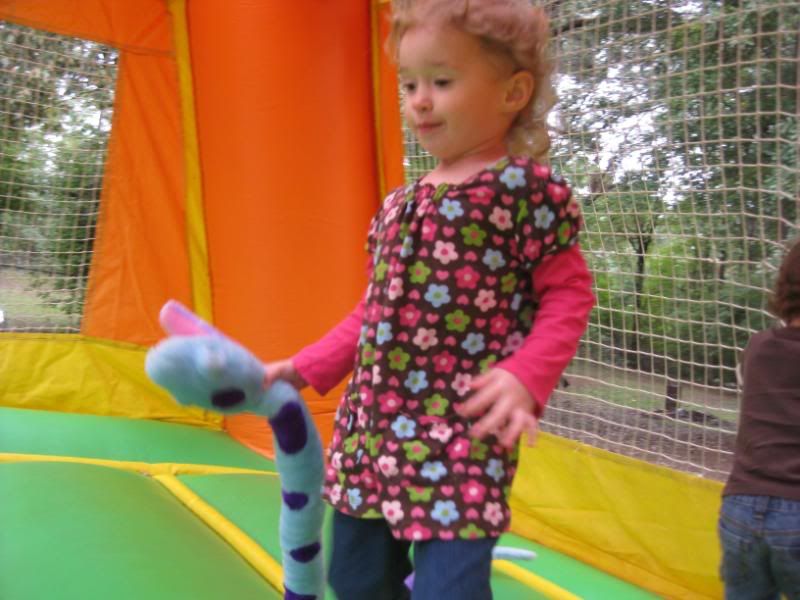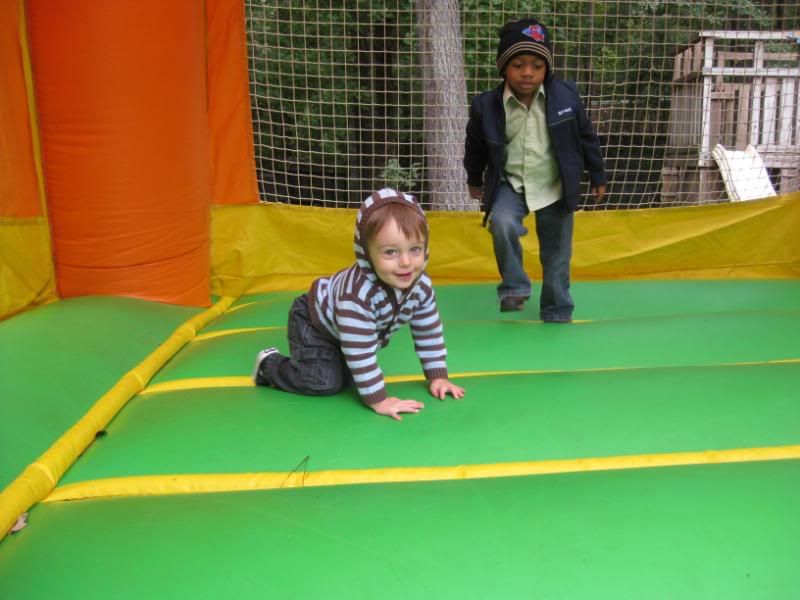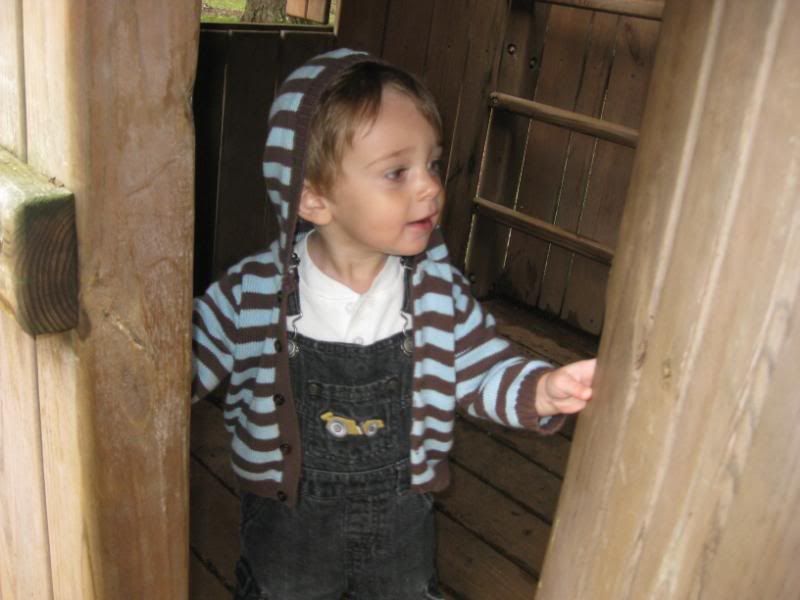 Then we went to Six Flags for Fright Fest.  Apparently, I forgot about my camera… this is the only picture I got that night.  Impressive, huh?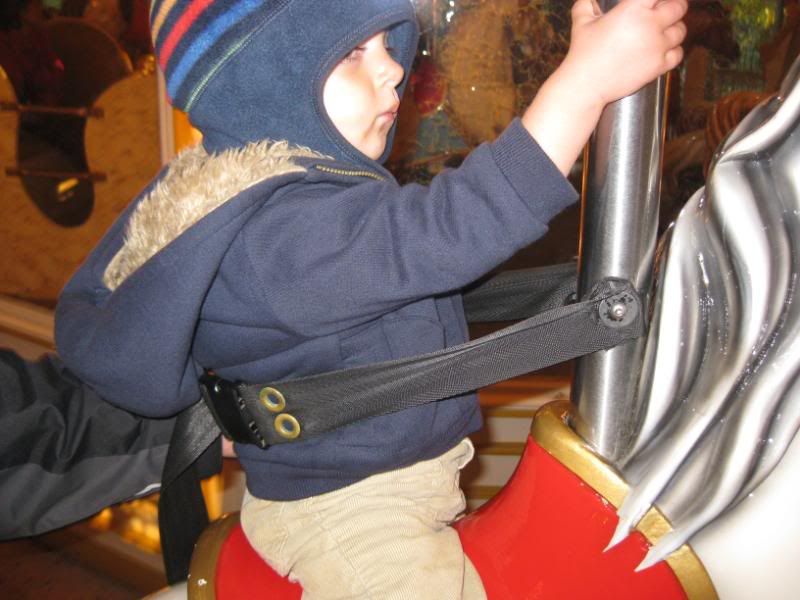 Here's Gavin playing "chef":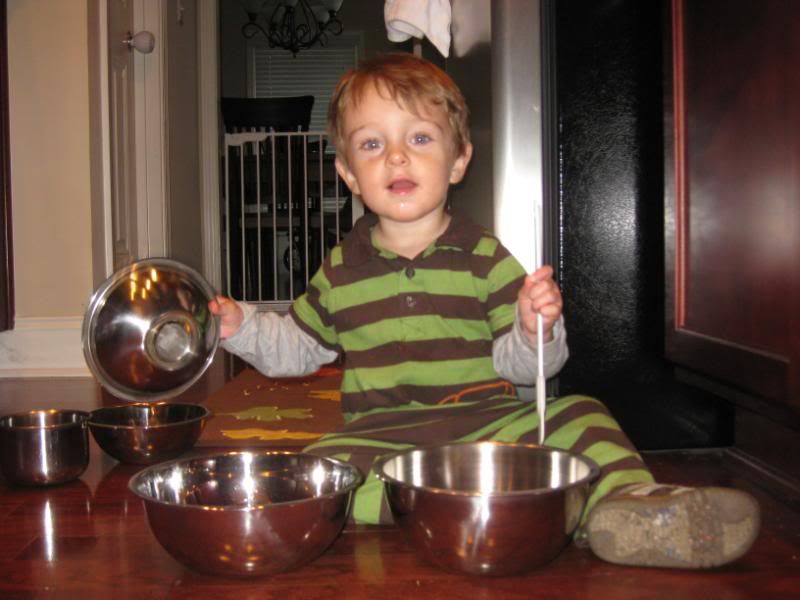 And here he is playing on my computer: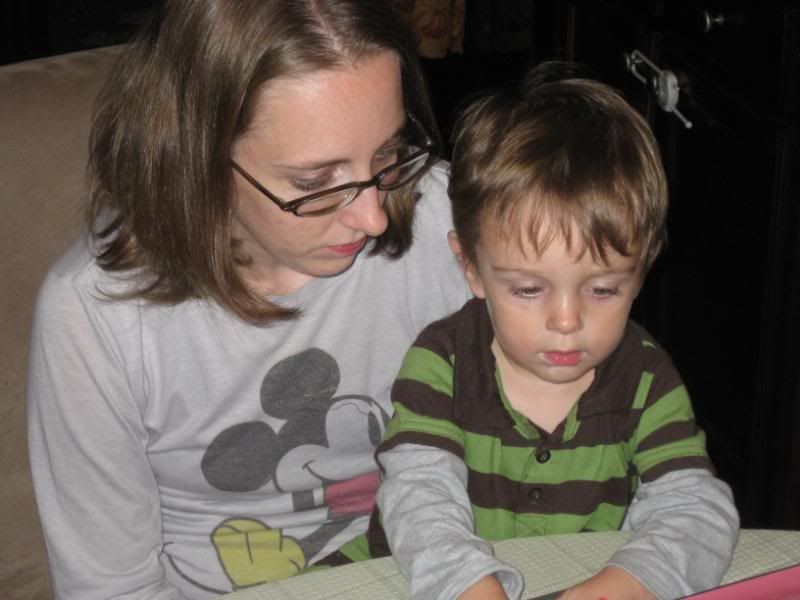 Next it was time for Colin's birthday!  Mommy and Gavin and Granny flew out to Texas to have lunch at Rainforest Cafe.  Uncle Chris and Coralyn were there too.  Too bad we were only there for about 3 hours! We'll come back and stay longer soon…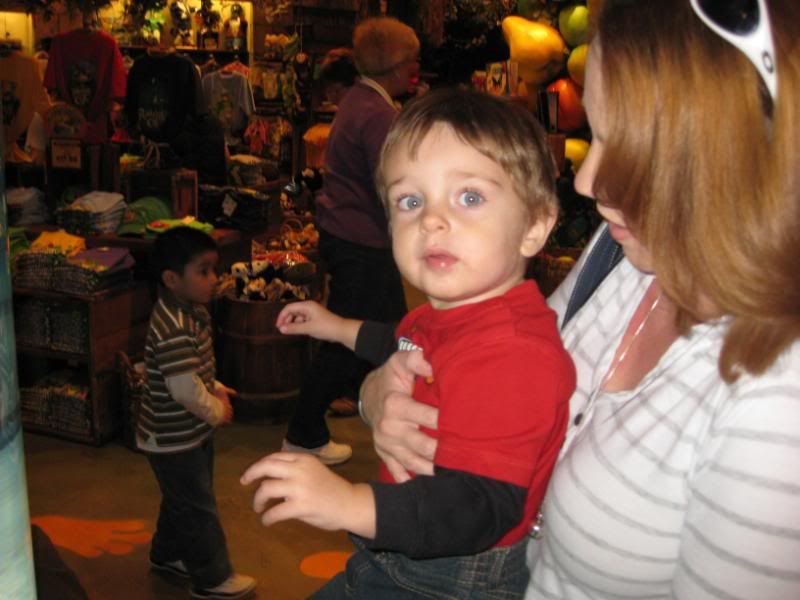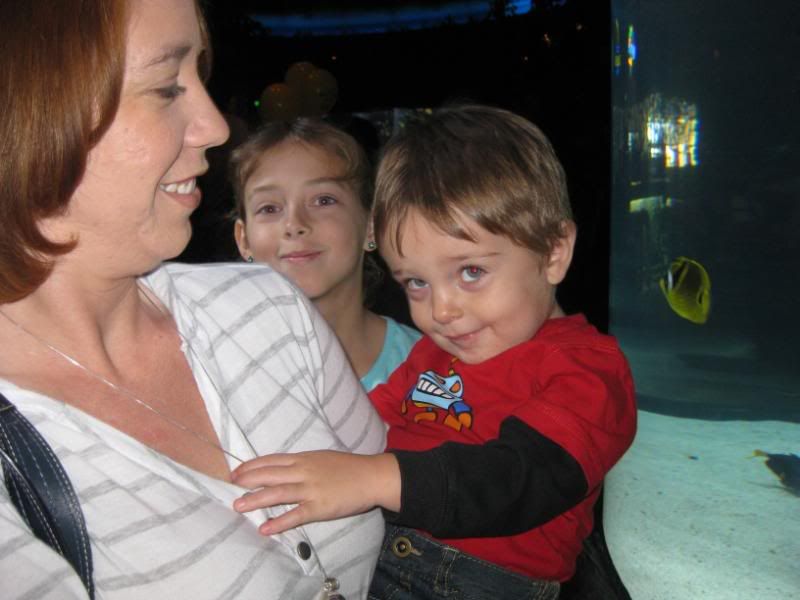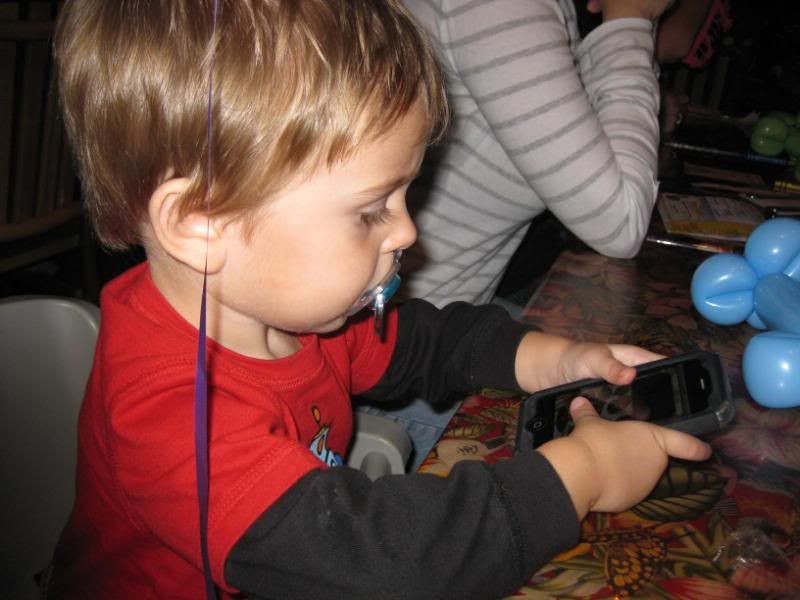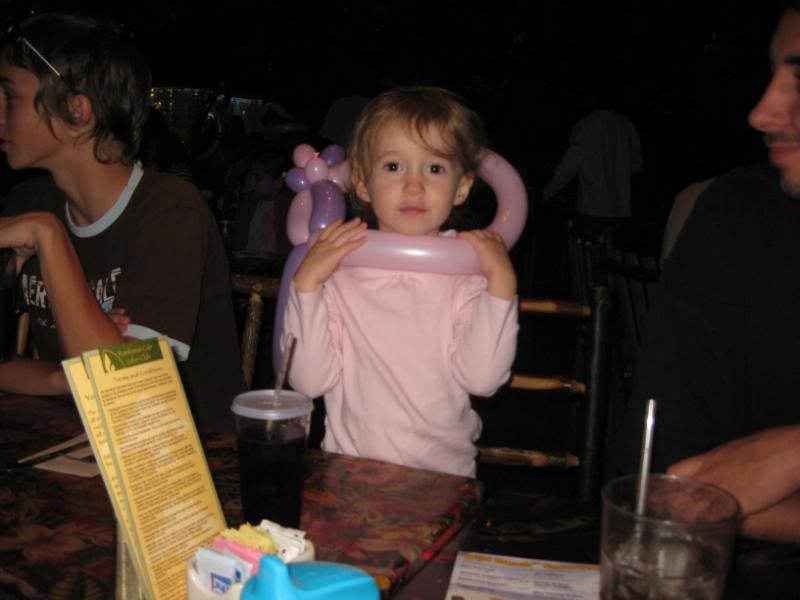 Playing in the boat at church: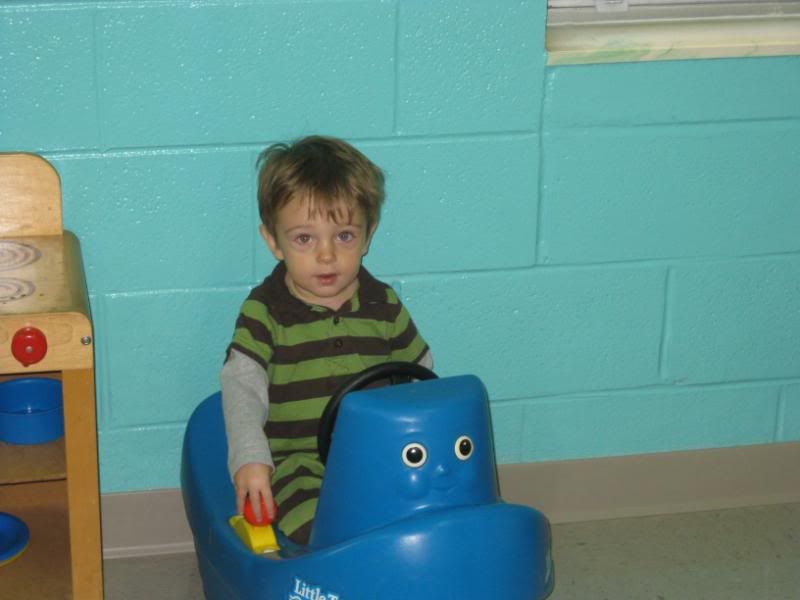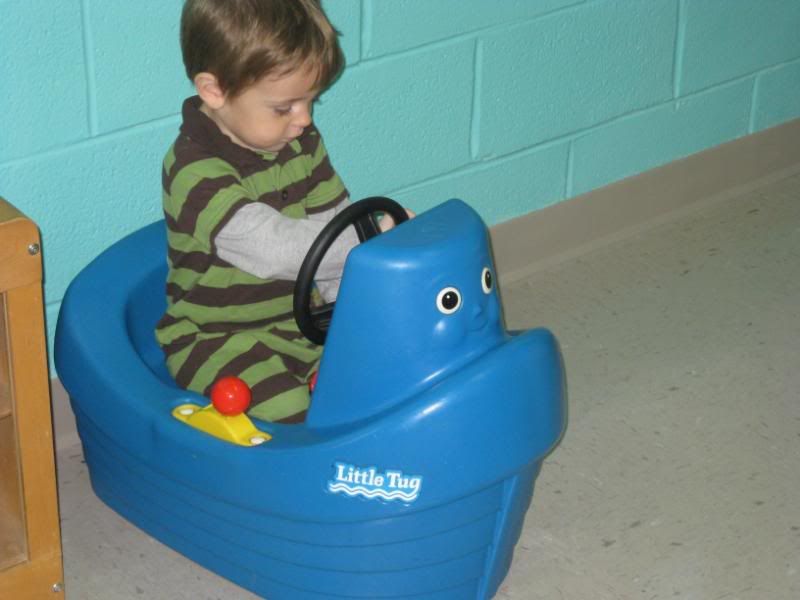 Now for the fun Halloween stuff!  First, Gavin got to go trick or treating around my office with his daycare class.  He was DJ Lance Rock from Yo Gabba Gabba.  For those of you who don't know about this show, here's a picture of the cast.  DJ Lance is the guy in the orange fuzzy hat: 
And now presenting- YO GABBA GAVIN!!!!!!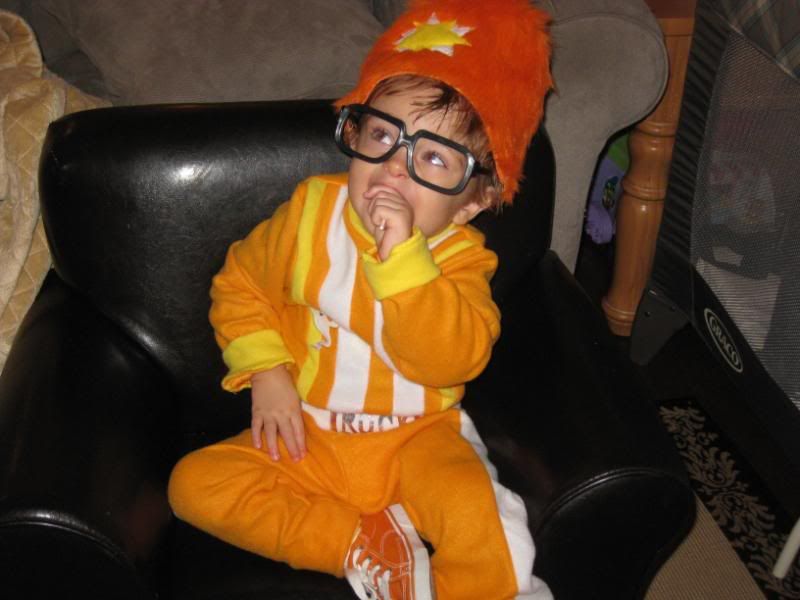 He did pretty well trick or treating at my office.  He finally caught on after about the 4th office and actually started holding his basket up for them to put candy in.  But trick or treating in the neighborhood… now that was interesting.  First of all, you have to understand that I couldn't get him to hold still for a picture unless we bribed him with candy.  Secondly, instead of ringing the door bell and waiting for the candy, Gavin tried to walk into every single house we went to.  And then he'd get really mad when we pulled him back out.  But it was cute and another little girl in our neighborhood dressed up like Foofa from Yo Gabba Gabba so they were super cute together!  It did rain on us, so we only did a few houses… but all in all, I think it was a success.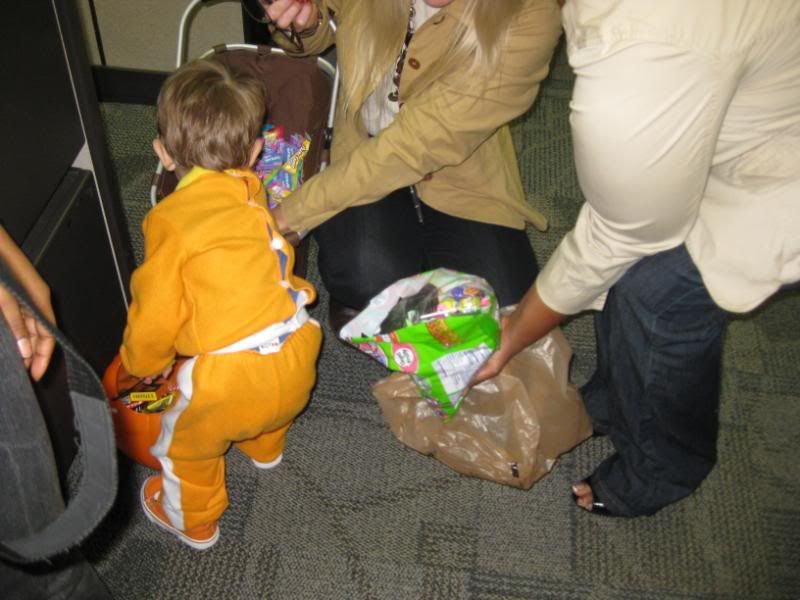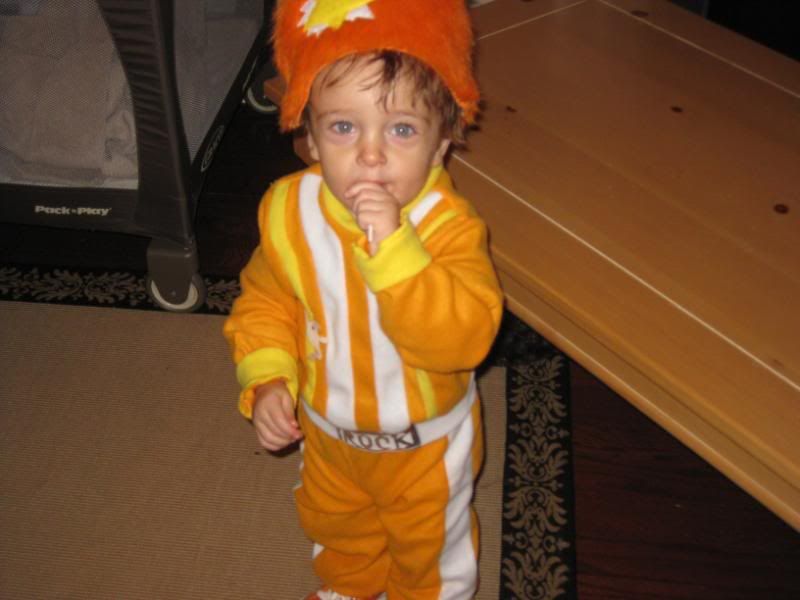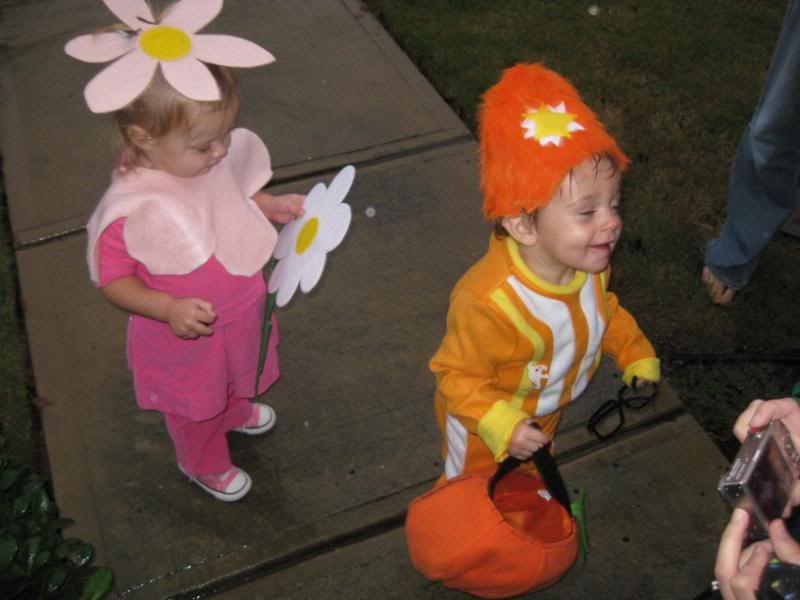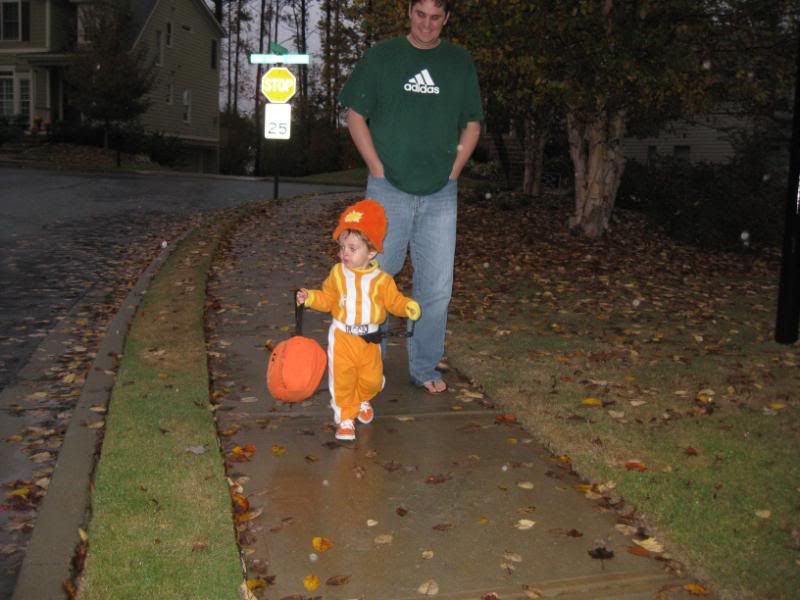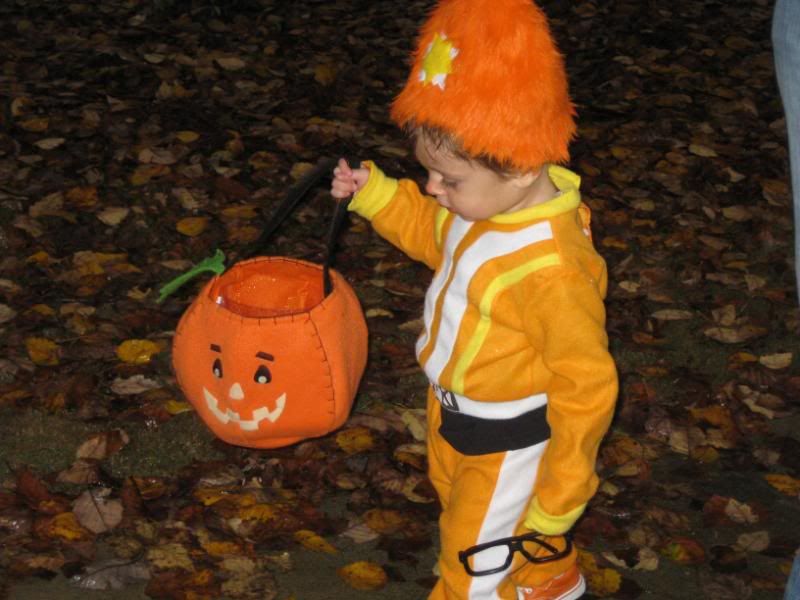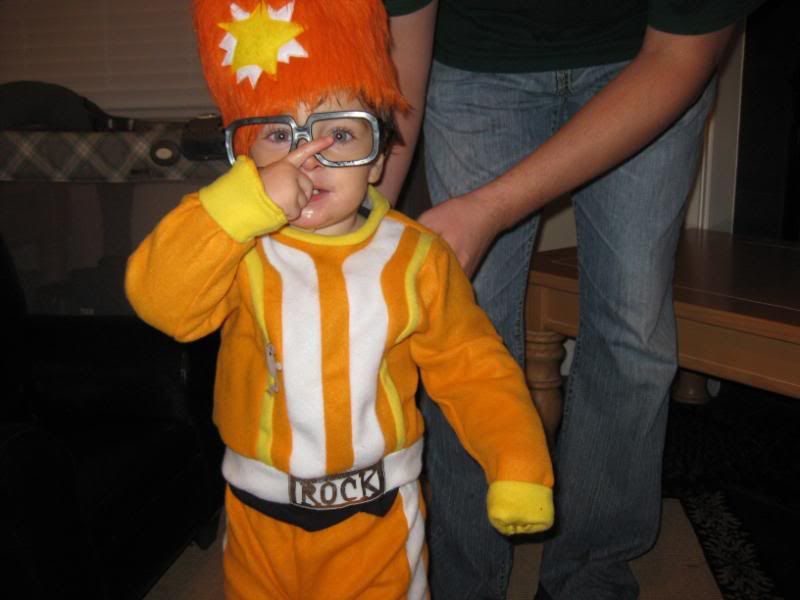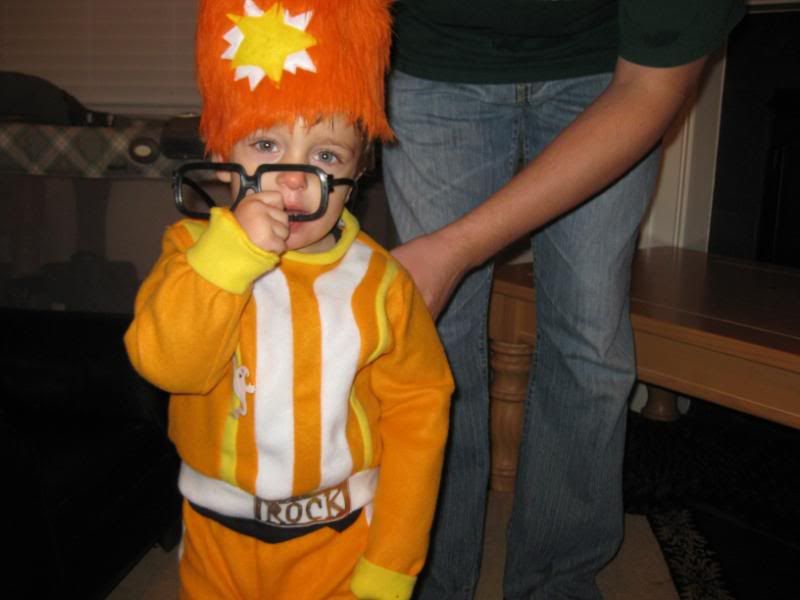 Well, that's all that's on my camera, so I guess that's it for this month!  Next update will probably have some Santa photos.  I'm anxious to find out if he will be a screamer this year!
HAPPY HALLOWEEN!!!