Monday, July 6th, 2009
I can't believe it's July already!  June flew by and as you can see, I forgot to post an update on Gavin.  Sorry about that.  We started off the month of June with a quick trip to Disneyworld.  It was just me and Bryan- Gavin stayed home with Granny this time.  He'll get to go back later this year.  This trip was a combo gift for Bryan- Father's Day and his Birthday… yep, he's about to turn the big 3-0! 
The next week, Gavin got sick again.  This time was by far the worst ever.  He hardly slept at all for 2 nights and basically just screamed and cried constantly.  We had no idea what was wrong.  He had a low grade fever the first night, but then it was gone.  He kept drooling like crazy so I thought maybe he was just teething really bad.  I took him to Children's Healthcare first thing on Sunday morning and she diagnosed him with a nasty virus called Stomatitis.  It's related to Hand, Foot, and Mouth- except Gavin only had the sores in his mouth.  Since it was viral, there was nothing they could do for him.  Ugh.  So we suffered for 2 more days and then I took him back to our doctor.  By then he had developed a TERRIBLE ear infection.  He also had a cold that was causing an eye infection and a runny nose.  My poor boy was miserable.  I've realized how useful this blog has been for me to track Gavin's illnesses.  At this point, I am POSITIVE that Gavin needs tubes for his ears… I think we will probably move ahead with this later this summer.
Unfortunately, Bryan's Grandpa Farnsworth passed away this same week.  Because of the ear infection, Gavin was not able to fly up for the funeral.  It was a beautiful service and we all loved sharing stories about Grandpa and how special he was.  Bryan has been watching old home videos ever since.  Grandpa was an amazing man and we miss him very much. 
Developmentally, Gavin is really getting so smart.  He does the funniest things and he totally cracks us up.  Today in the car, he patted his hands along with the Little Einsteins DVD.  He's never done that before and Bryan and I both just laughed and watched him and cheered him on.  He is soooo fun!  He is definitely learning new words, but he so addicted to that pacifier, that we don't get to hear him talk very much.  We are going to cut that out soon… I need to talk to his teachers about it this week.  I can't believe we went 15 months w/ no paci and now he's hooked.  Go figure.
It is now July and we are getting ready for Kristin's wedding next week.  After that, we are home for a week and then heading off to Florida.  I have training down there again, so Mom decided to rent a condo and Brent and Chris and the kids are all coming along.  So I probably won't get to post again until August.  Now, on to the pictures…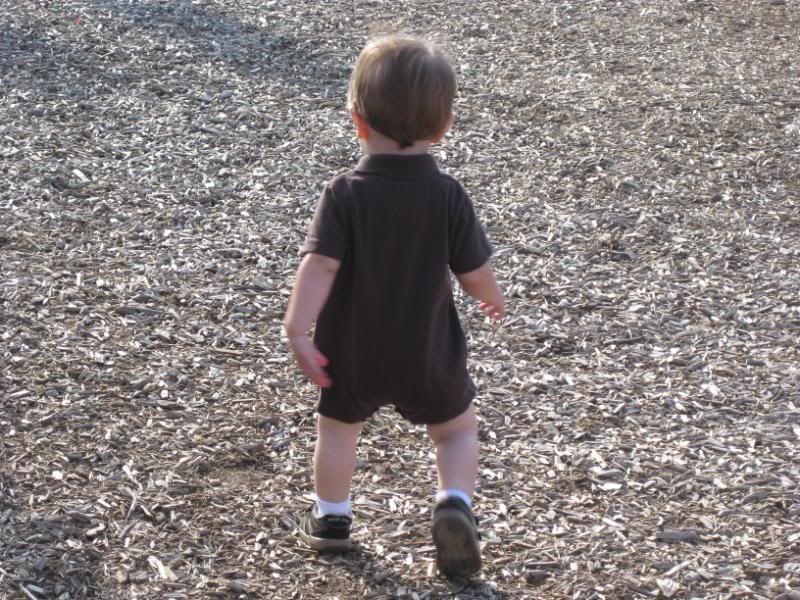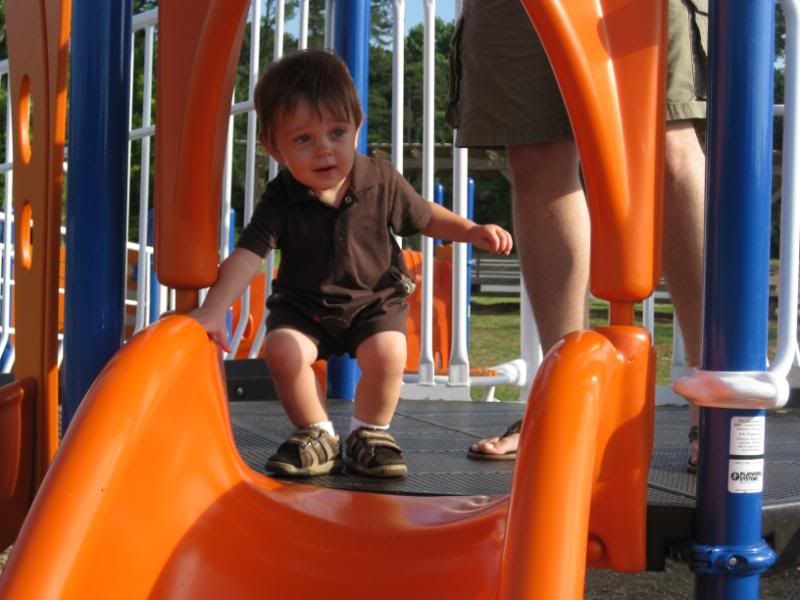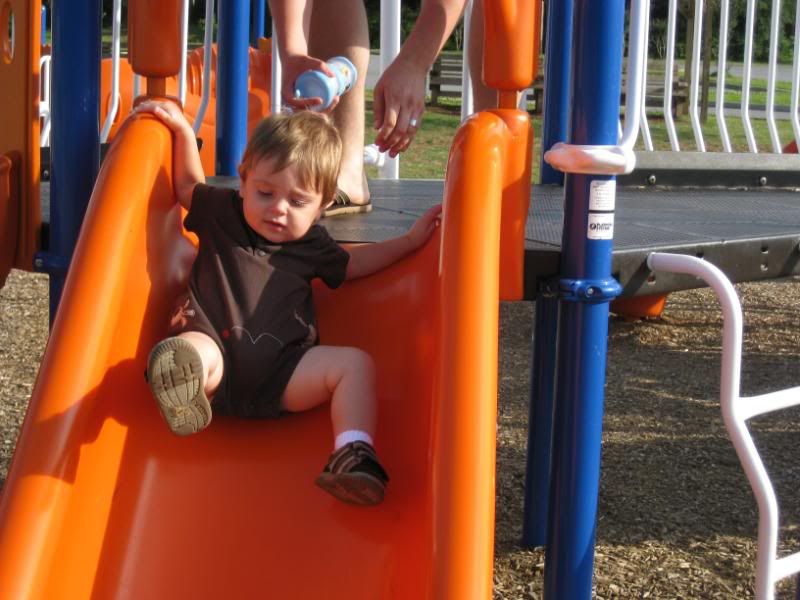 Now let me explain this next series… I made the following collection of pictures for Bryan for Father's Day and put them in a frame with 3 openings…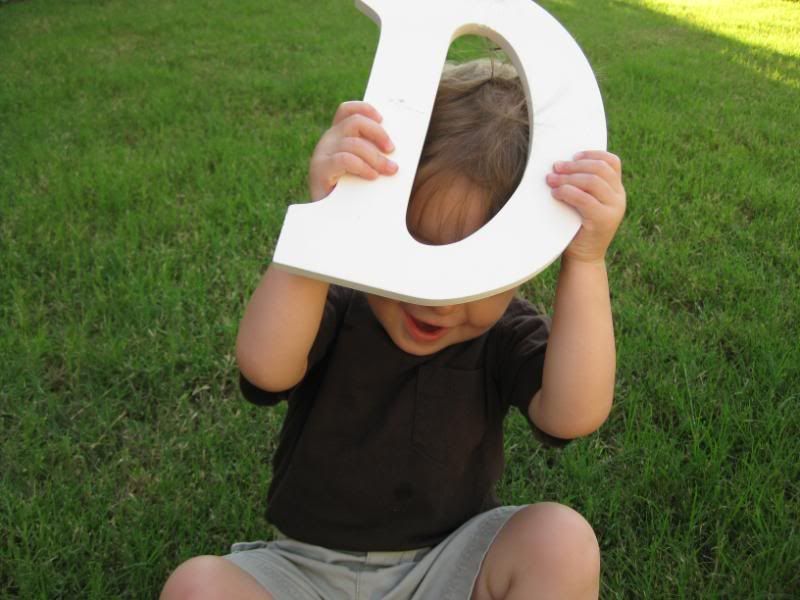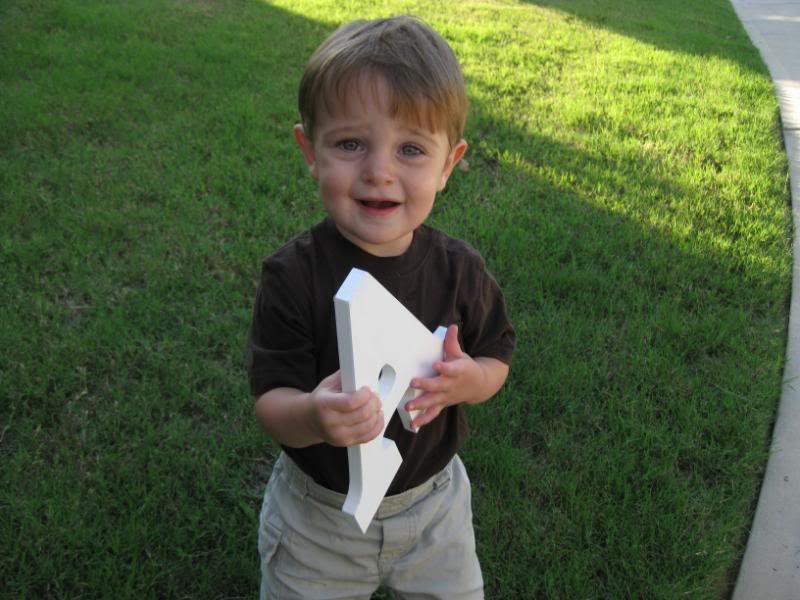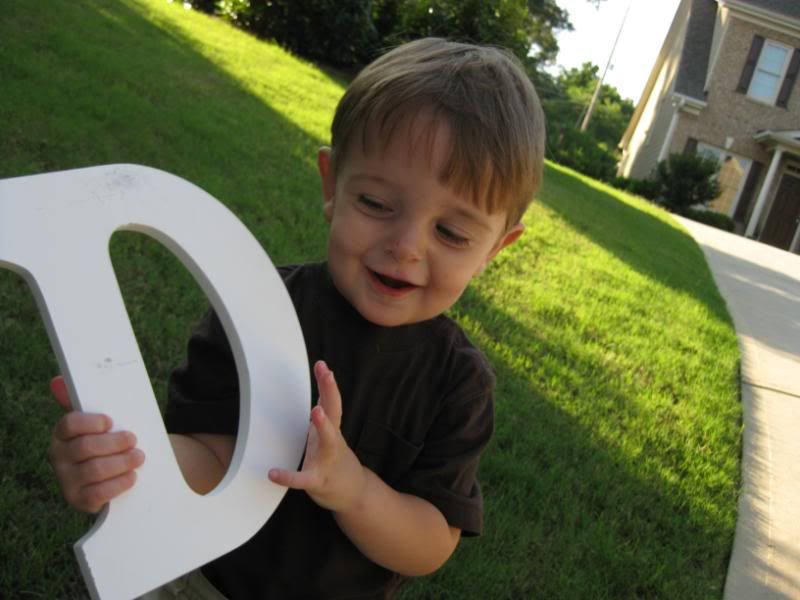 Cute, huh?  Now for the outtakes…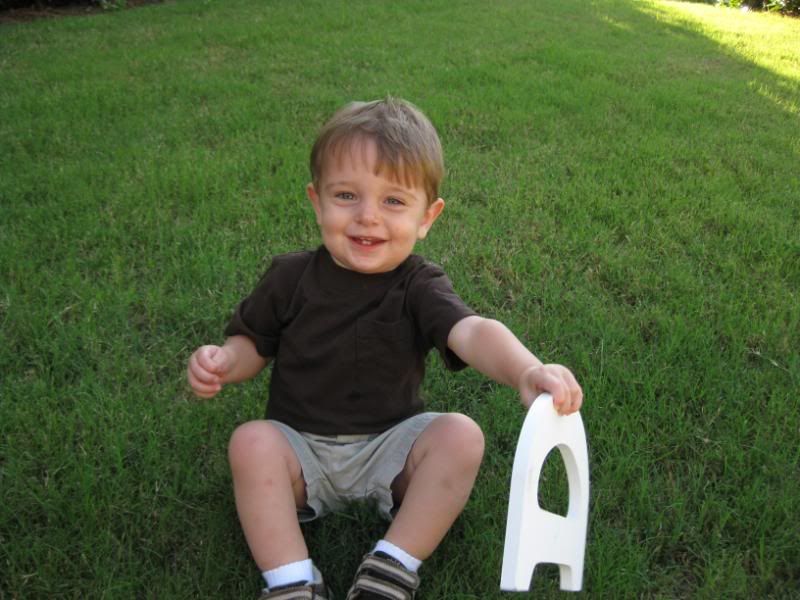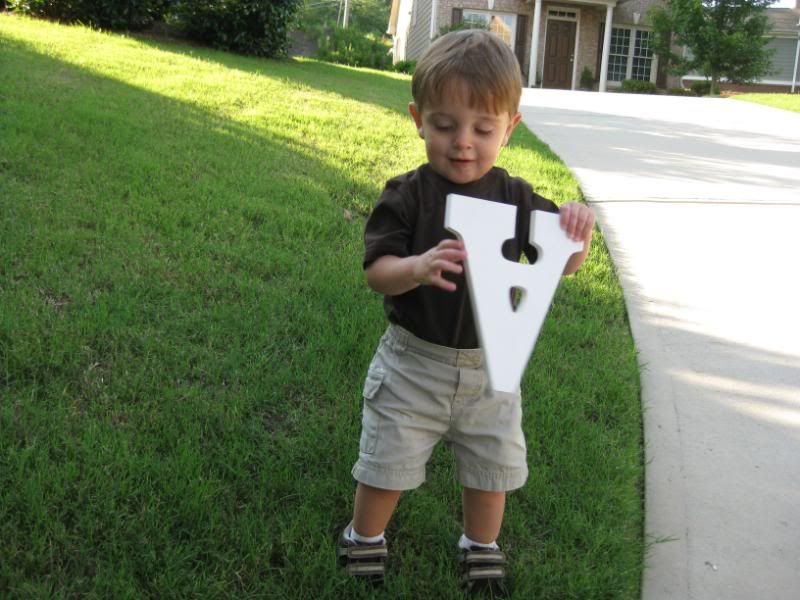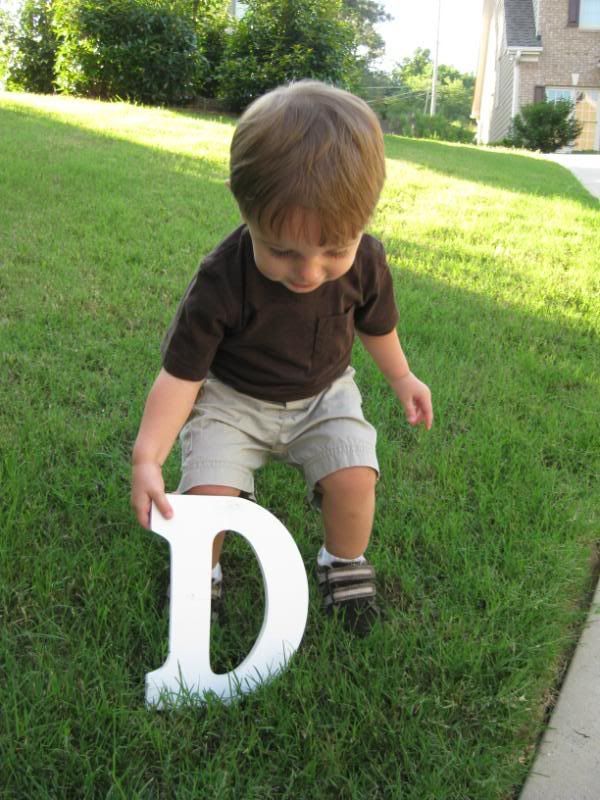 And the indoor shots… Gavin was not amused as I was interrupting Yo Gabba Gabba…  I couldn't even get a second "D" out of him.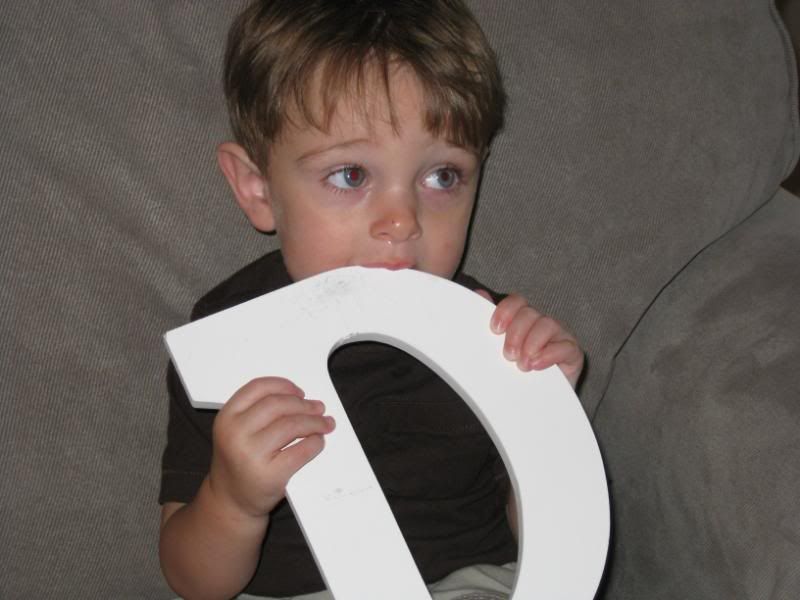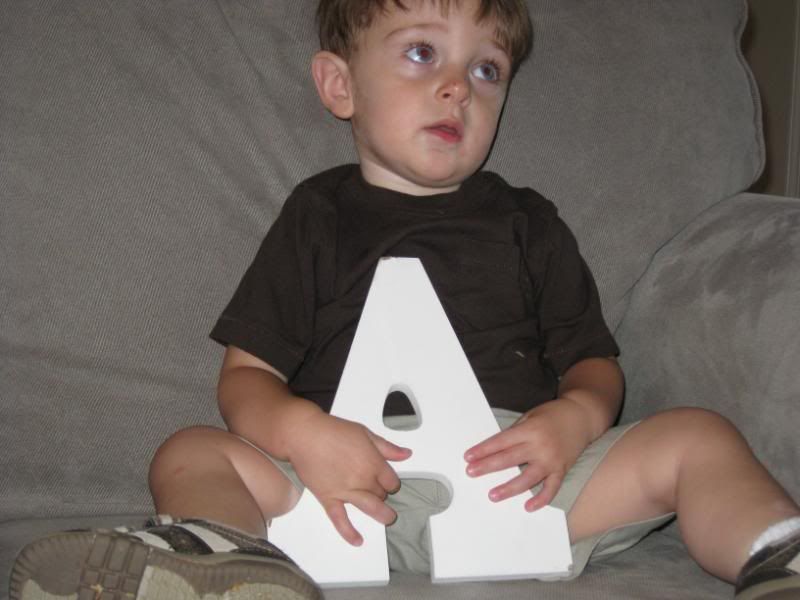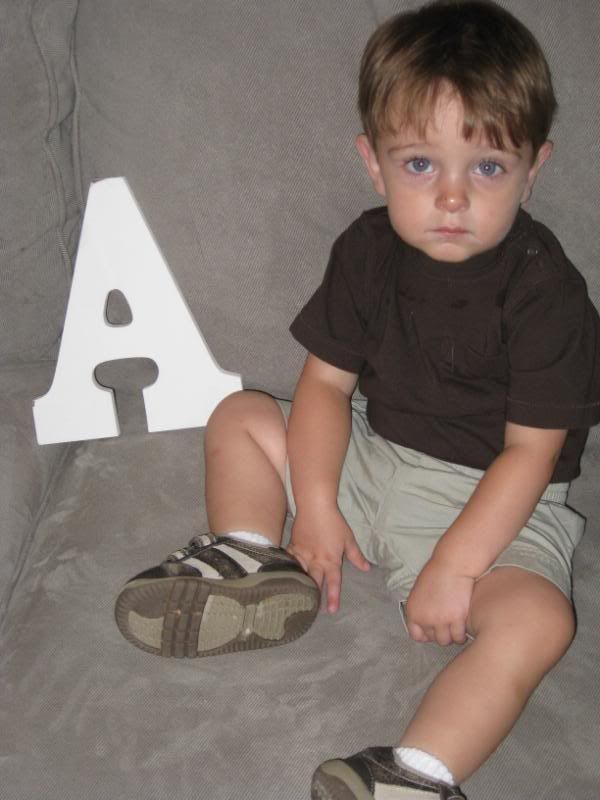 And here we have Gavin's standard Yo Gabba watching position (or Mickey Mouse Clubhouse… it's a toss up for him right now)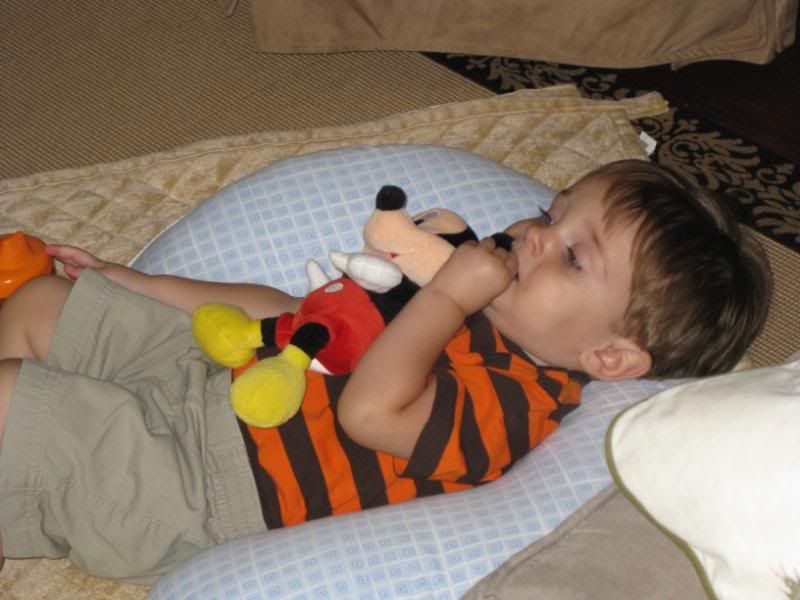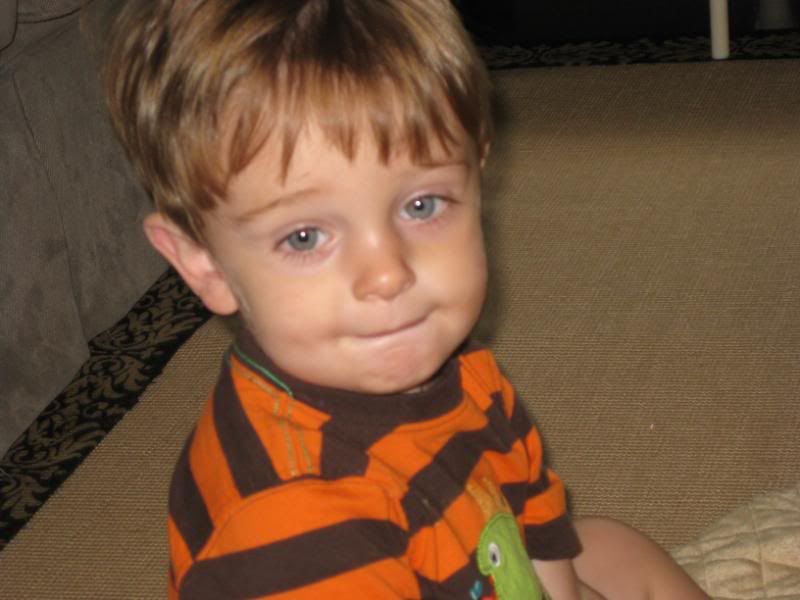 This picture is from daycare.  All the kids love this chair and fight over it all day.  Well, Gavin was the first one there the other day and he ran straight over, grabbed this rake and plopped down on the chair like it was his throne.  So cute that I had to snap a picture of my little king!
Out for Daddy's Birthday Dinner… Gavin LOVES spaghetti!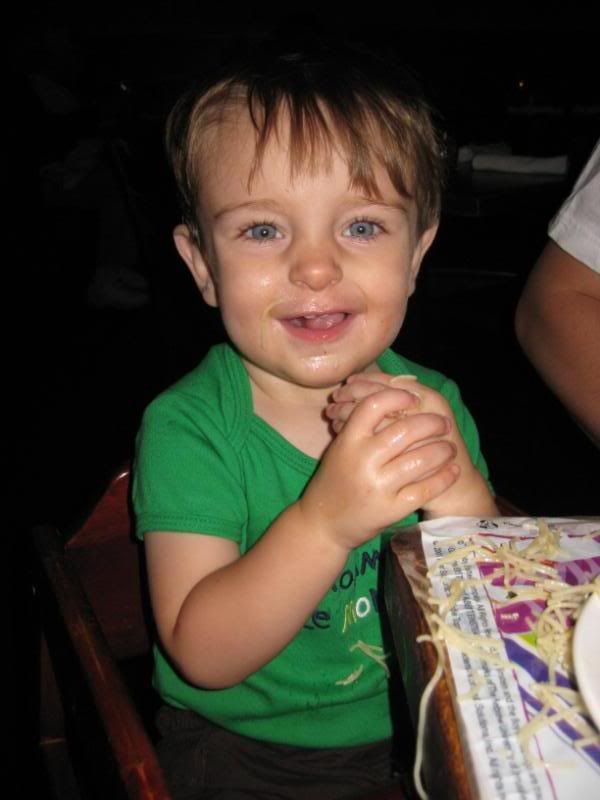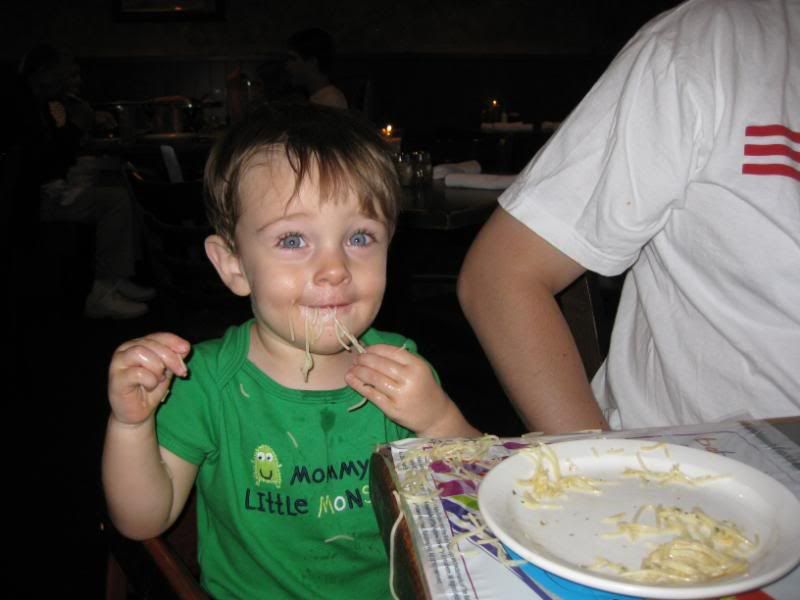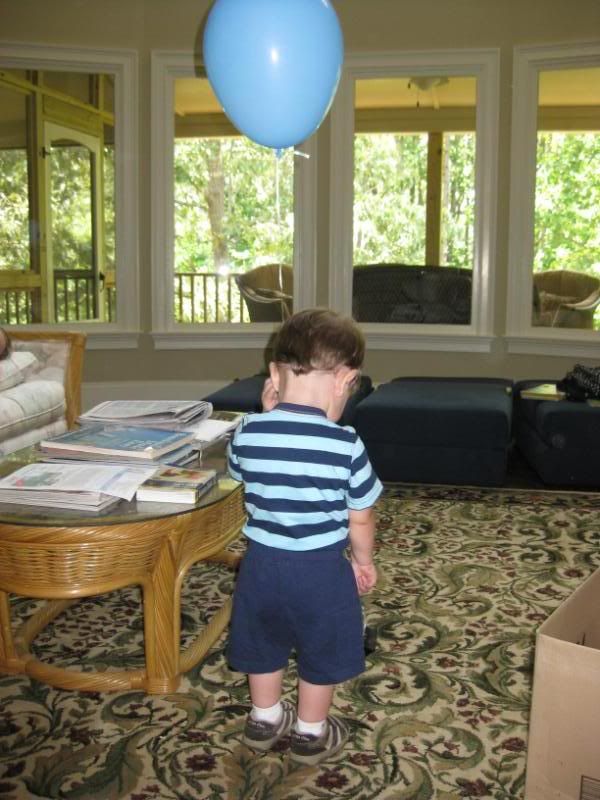 And finally, some 4th of July pictures… Gavin loved the sprinkler!