Wednesday, April 29th, 2009
April has been a great month for Gavin!  He has had a major brain spurt in the last week or so and has suddenly learned several new words.  A week and a half ago, Gavin's entire vocabulary consisted of Dada and Du-chuh.  He can now say all of these new words (maybe not phonetically correct, but close enough that we can figure it out): Cup, Book, School, Kitty, Bye Bye, and Circle.  This last one is a puzzle to me and Bryan and his teachers, but that is definitely what he is saying (pronounced "Erkle").  I know there have been others as well, but I can't remember right now.  He is also responding to yes or no questions by nodding/shaking his head.  He's even been using his sign language more.  It's just amazing how fast it all happened!
Other tricks include bouncing a ball and riding on his little ice cream truck.  He is a good little climber now and can handle the stairs with no problem.  He will give hugs now and blow kisses- but only if he's in the mood.  He blew about 20 kisses to the neighbors dog last night…  he really likes her.  He has also apparently been spending a little too much time around Poppie because he is a cleaning machine!  Give the kid a towel and he will wipe the floor, clean the table, and my favorite… detail his ice cream truck.  There is a picture of this below
Currently his favorite food is hot dogs.  He LOVES them.  Other favorites are spaghetti, bananas, and goldfish crackers.  But basically, the kid will eat anything- he's not picky (unlike mommy and daddy).  We are finally trying to stop the bedtime bottle.  I gave him a bottle with water in it the other night, per the dentists instructions.  Apparently he was supposed to not like that and no longer want a bottle.  Hahahaha!  Yeah right- he didn't care- didn't finish it but didn't scream either.  The next night was not so successful… he did scream and mommy caved.
Easter was this month.  Gavin got an automatic bubble blower shaped like a Hippopotamus.  Very cute.  Of course all he wanted were the plastic Easter eggs.  We didn't do a lot of candy this time but we did have some Easter marshmallows which he LOVED.  Mommy and Daddy enjoyed them too.
Last weekend was Uncle Jeffie's wedding in Savannah.  I hear it was a beautiful ceremony.  Unfortunately, Gavin and Mommy and Granny and Megan got lost in downtown Savannah and missed the ceremony.  High heels and cobblestone do not mix.  We did make it there for some pictures though so check out Gavin in his suit.  Very handsome.  The reception was great and Gavin especially enjoyed the mashed potato bar (he is definitely his fathers son!).  We got to see so many relatives and it was great to see Grandma and Grandpa Farnsworth!  We miss you guys and hope to get to see you again soon!  We had a great time in Savannah even though Gavin's allergies flared up and led to another round of breathing treatments.  He was doing much better but woke up from his nap today with a fever and is clearly not feeling well… guess we're going back to the Dr tomorrow
OK, enough already… enjoy the pics!
I just love this outfit with the suspenders…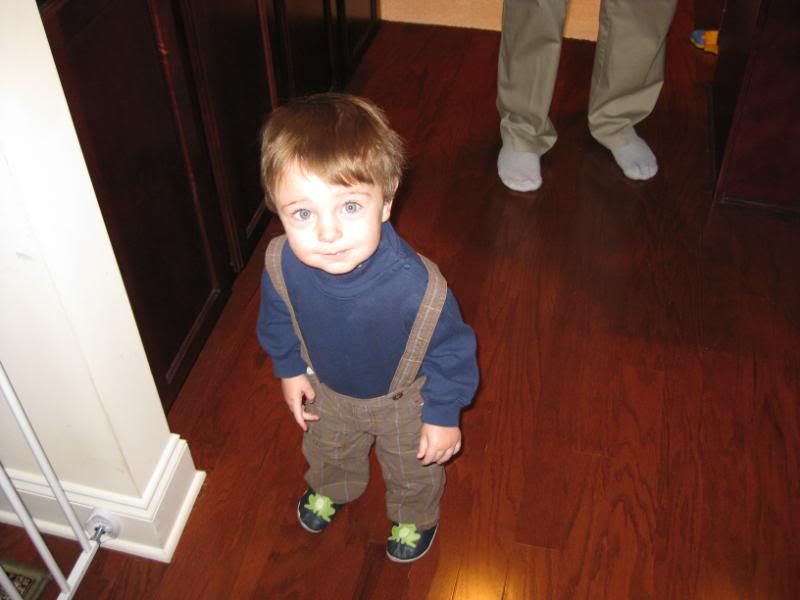 This is Gavin spacing out while watching Yo Gabba Gabba…
 Happy Easter!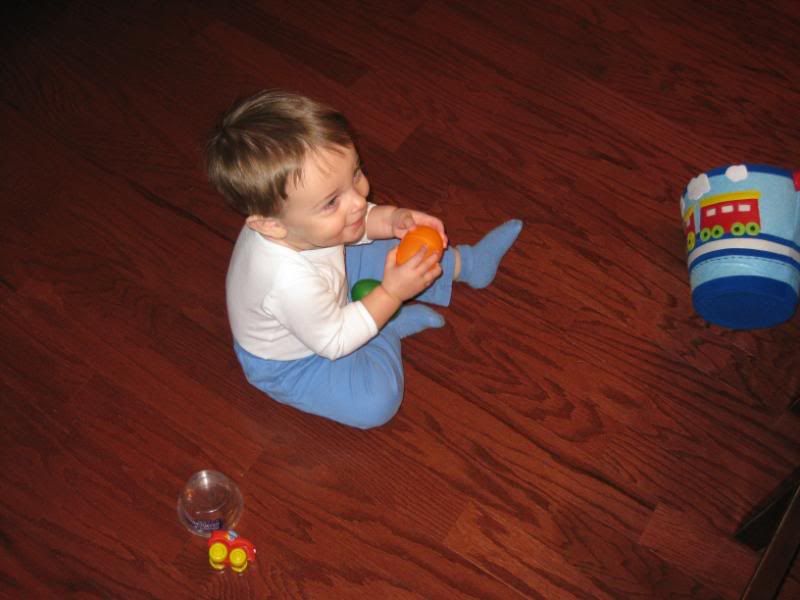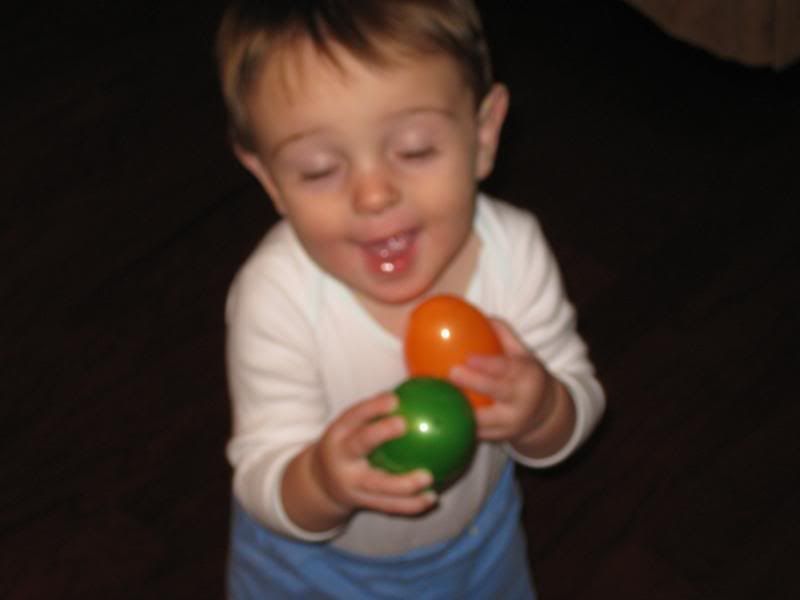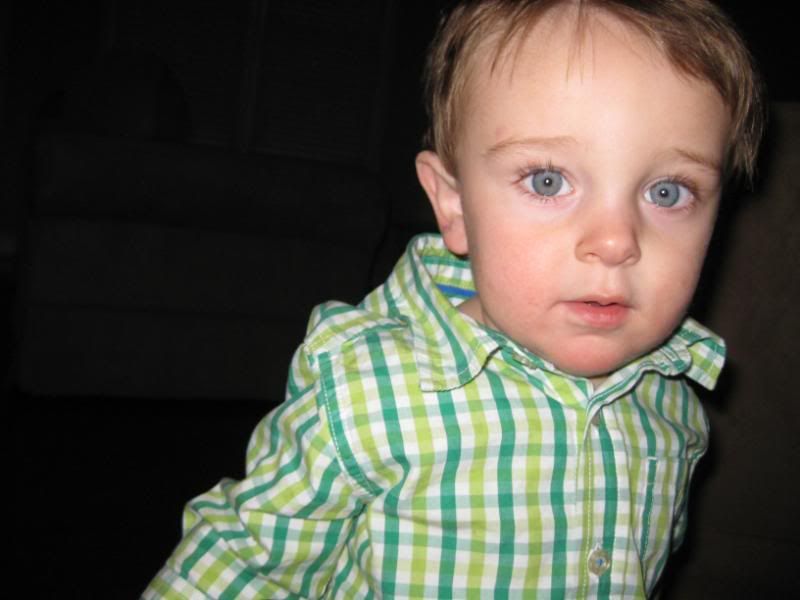 This one is just too cute- he looks like such a grown up reading his to do list…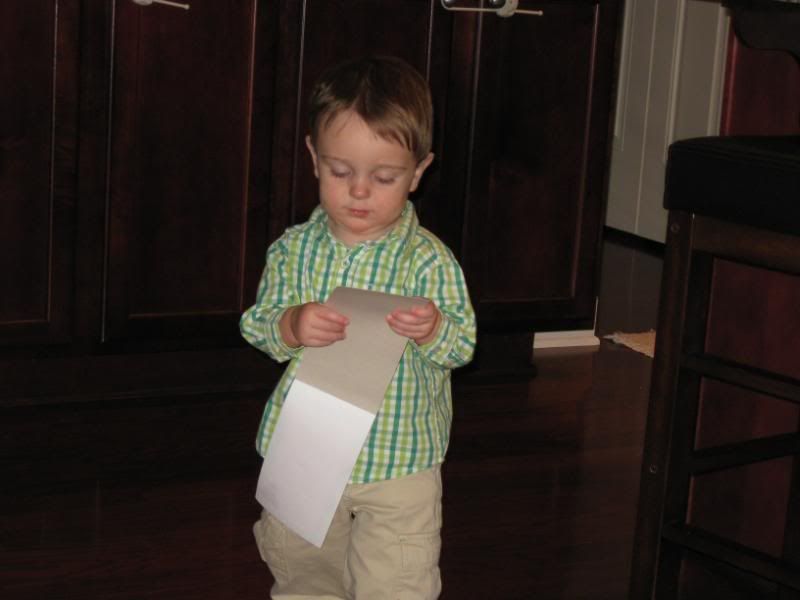 Uncle Jeffie's Wedding…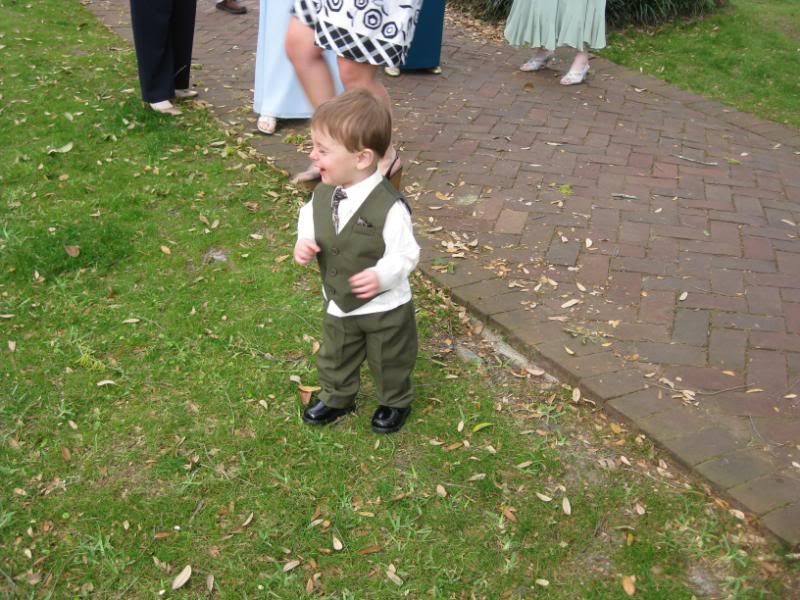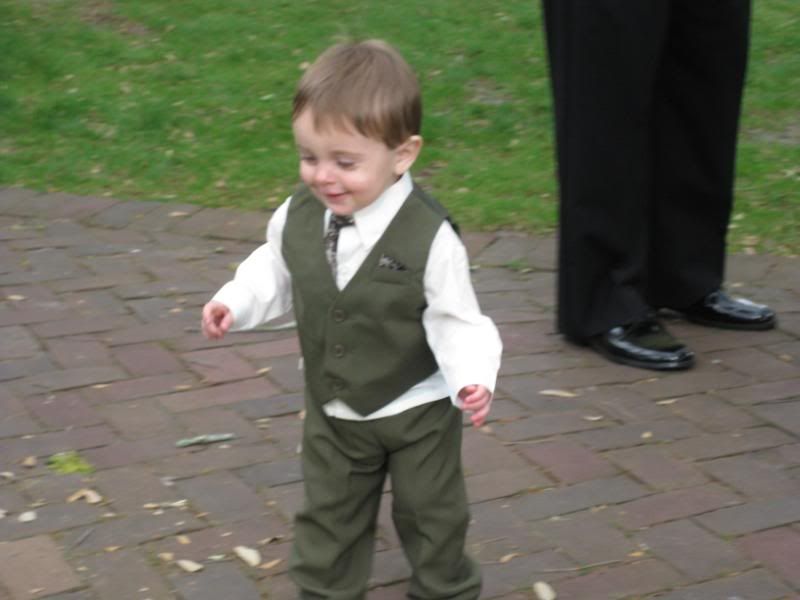 Playing on the porch at Cracker Barrell…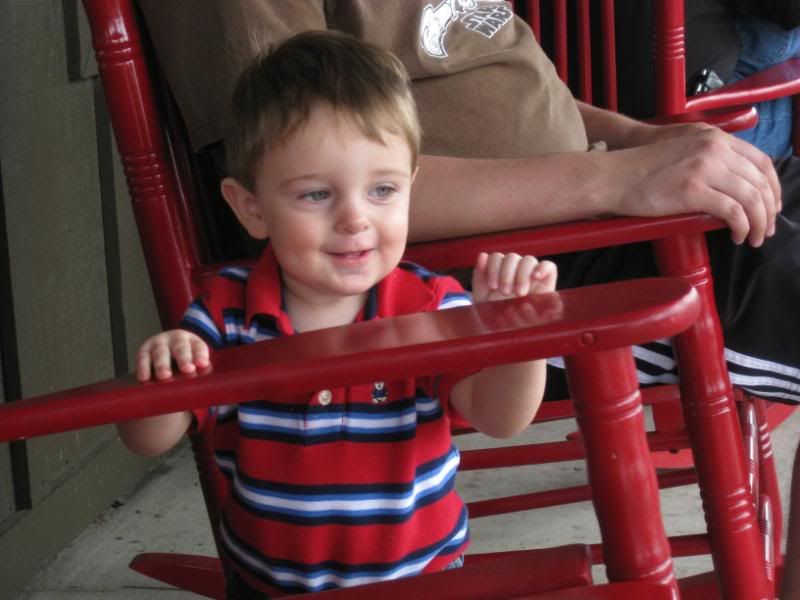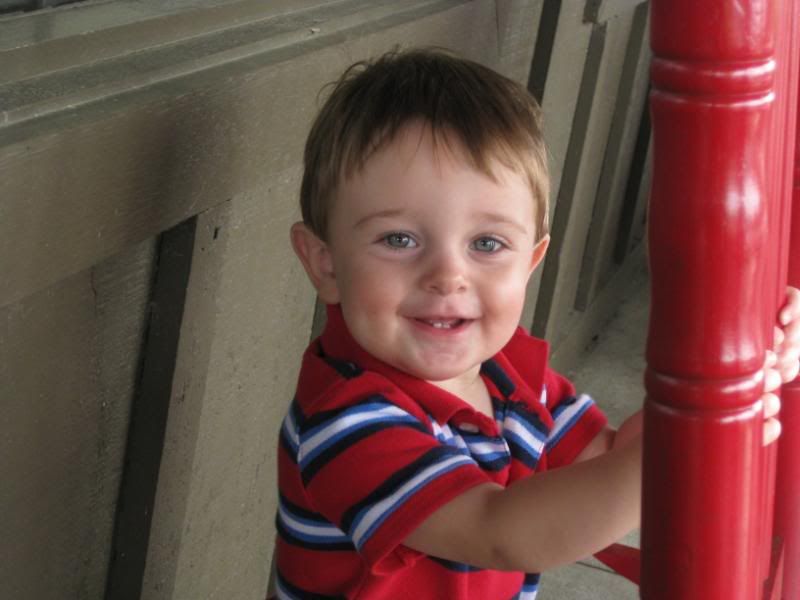 Spaghetti Lunch Day at School…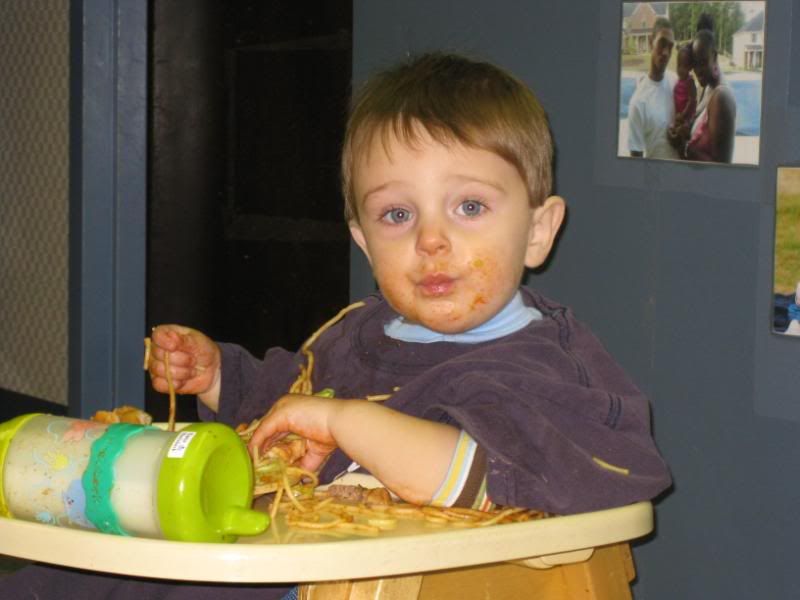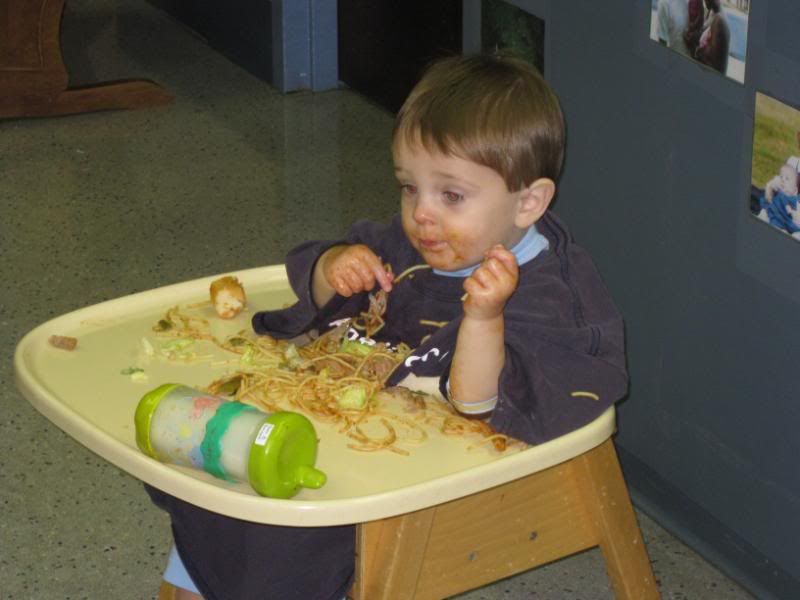 Cuddling with his blankie and boppy…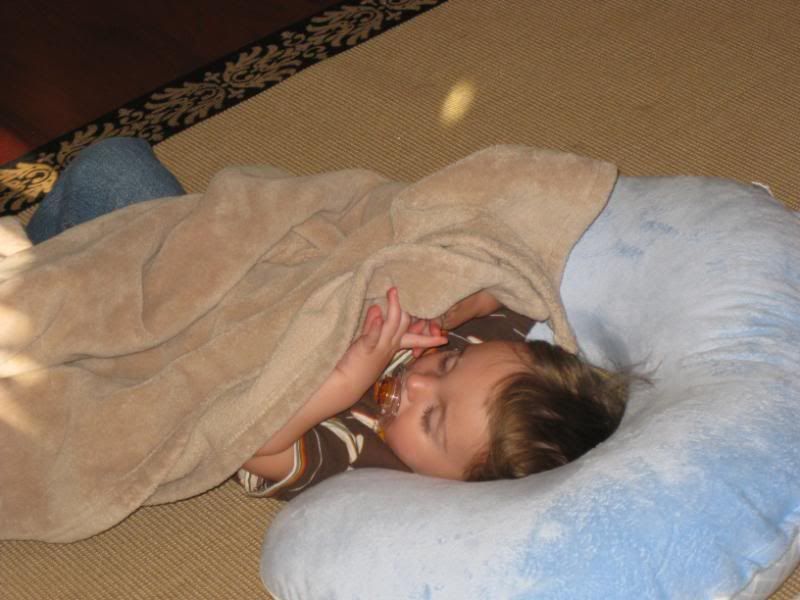 Cleaning Machine…